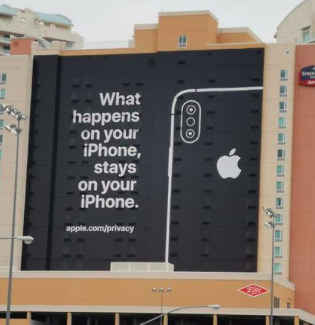 In a Time Magazine op-ed piece that is a likely preview of his talk at the "Globalization 4.0" World Economic Forum meeting next week in Davos, Apple's Tim Cook proposes more government intervention in the digital ad marketplace. Cook previously railed against the "data industrial complex" at an October EU privacy event. Apple also recently poked Google in the eye with its massive CES billboard in Las Vegas that reads: "What happens on your iPhone, stays on your iPhone."
In his January 16, 2019 Time editorial, Cook suggests that consumers should no longer tolerate "companies irresponsibly amassing huge user profiles." He obviously is smart enough to recognize the existing digital ad ecosystem needs to stay firmly in place for his company to thrive – 25% of all persons now check their phones within one minute of waking up largely due to the existing social media landscape he now criticizes. Rather, he proposes federal omnibus privacy legislation that would ostensibly place more control with consumers who will be allowed for the first time the chance to say, as he put it: "Wait a minute. That's my information that you're selling, and I didn't consent."
Cook "kicks off" his debate with the following salvo:
That's why we believe the Federal Trade Commission should establish a data-broker clearinghouse, requiring all data brokers to register, enabling consumers to track the transactions that have bundled and sold their data from place to place, and giving users the power to delete their data on demand, freely, easily and online, once and for all.
Similar to what is now being enforced in Vermont, Apple apparently advocates for the registration of data brokers but adds the new regulatory requirement of tracking transactions as well as codifying the right of erasure enshrined in GDPR and purportedly also acceptable to Facebook. Backing up "some" of its rhetoric with action, Apple has recently allowed even users outside GDPR's purview the ability to learn what data is held by it and to correct any inaccuracies – it still, however, does not allow users to learn how their data is used by other companies:
It is not difficult to cynically consider Apple's new lobbying campaign simply an attempt at undercutting Samsung and Google – especially given Apple itself will always remain a very integral part of the digital ad ecosystem. In the near term, Apple faces little economic risk with its privacy-friendly posturing – only a potential increasing of its already lofty brand equity. Given that Apple is not technically a "data broker" the significant added costs to data brokers created by its advocacy will certainly not be absorbed by Apple.
No matter what its motivation, Apple's new perspective may one day give consumers a bird's eye view of exactly how valuable their personal data is to companies lacking any direct relationship with them. And, after that recognition, it may finally be time for consumers to get paid for their valuable data.
UPDATE: January 18, 2019  
Notwithstanding Mr. Cook's public stance regarding Apple's GDPR compliance, Apple Music was hit on January 18, 2019 with a complaint alleging a potential maximum penalty of € 8.02 Billion for various GDPR violations.